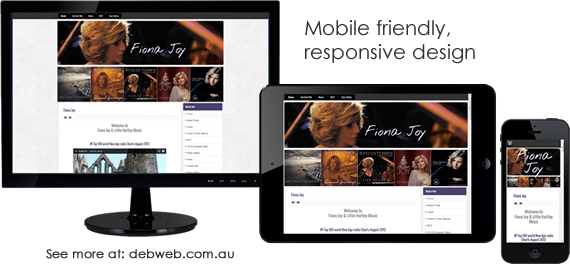 I hope to bring the elements of good composition, design and impact to those who would like a high quality, low cost presence on the World Wide Web..
Debweb is your one stop shop.. we can Register your Domain Name, arrange and manage your Web Hosting and Design your Web Site, all at very economical rates.
Please Contact Me for a free no obligation quote or enquiry.

We specialize in WordPress, Joomla, Drupal, templates and themes. To give you an idea of some of our base Web Design Packages please have a look at Web Site Design
Website Planning & Development
Custom Theme Design, Joomla, WordPress, Drupal, Content Management.



e-Commerce
ZenCart, Virtuemart, Woocommerce



Follow us on Facebook: https://www.facebook.com/DebWebDesign
Follow us on Twitter @DebWebDesign: https://twitter.com/DebWebDesign